Dear Parents,
Please refer to the image below to get a better understanding of the new procedures set by NewGiza for the daily traffic into and out of the schools zone.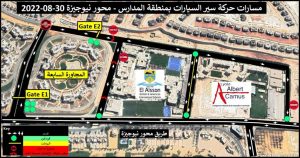 Dear Parents,
We are happy to share the details of the continuing partnership between El Alsson School and Bakier offering El Alsson students and staff an exclusive discount of 10% at all our Bakier Stationery stores (listed below).
As for the Bakier mobile app, this code can only be used on the app          ALSSON10OFF
Please note that :
–          10 % discount on all the items except these categories (SPECIAL OFFERS  – CALCULATOR – PRINTING PAPER )
–          The codes work in August, September and October.
Links for Bakier mobile apps:
Android: https://play.google.com/store/apps/details?id=com.bakier.co&hl=en&gl=US
IOS: https://apps.apple.com/us/app/bakier/id1536025784
Bakier Stationery Stores:
Maadi Store  : 2 Road 218 Digla Maadi    Tel : (02) 25199088 –  25211040
Heliopolis Store  : 25 Cleopatra St., Heliopolis   Tel : (02) 24190410 –  24190411
Mall Of Arabia Store:  Mall Of Arabia Gate 17    Tel : (02) 38260888
Point 90 Store : Point 90 (G 0)   Tel : (02) 25727266
Mohandeseen Store: 5 Lebanon Street, Mohandsen   Tel : ( 02 ) 33032151
New Cairo Store: 334 Concord center mall, 90th street, New Cairo    Tel : +201091329992
Zayed Store: LeGenda Mall, Sheikh Zayed   Tel:  +20109 110 5237 )
Please use the links below to download the detailed lists for our Primary and Elementary Schools