AMERICAN GRADUATE RESULTS 2018
Last year we saw a good number of students from Grades 11 and 12 participate in the Advanced Placement (AP) program. The school now offering over a dozen AP courses and exams. In May 2018 our AP program saw 42 students sitting for a total of 55 exams in a diverse range of subject areas including Art, Computer Science, Sciences, Social Sciences, Mathematics and English.
The AP program provides students the opportunity to take university-level courses while in High School Students who receive a score of 3, 4, or 5 on the CollegeBoard's AP exams can receive advance university credit from thousands of colleges around the world.  This year our results continue to be strong in comparison to average results in Egypt and globally.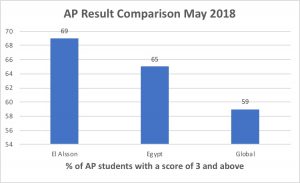 Of the subjects for which El Alsson students took exams, 59% of exams taken globally received a score of 3 or above and 65% of exams in Egypt received a score of 3 or above. As with every year of our AP program, El Alsson students topped both the Egyptian and global averages with 69% of our students receiving a score of 3 or above. This is quite an accomplishment given our shortened 2017-18 academic year and the impact of our campus move on our oldest students.
Congratulations to all of our AP students on their results. A special mention needs to be made to our AP Scholars below.
AP Scholar Award:
Awarded to students who achieved a score of 3 or above on three or more AP Exams.
Nour Sarhan (G12)
Mariam Younes (G12)
AP Scholar Award with Honors:
Awarded to students who received a score of 3 or higher on four or more AP exams and a total average score of at least 3.25.
Mohamed Dawoud (G12)
Laila El Sahhar (G12)
Mohamed Emara (G12)
Well done to our AP Scholars!
American Graduate University Destinations
It is worth mentioning that we have a huge diverse in majors such as Film studies and Music and destinations this year. It is our first year to explore Far East. All admissions were through the Guidance office directly.