The British International section of El Alsson is a fully accredited member of British Schools in the Middle East, and is an approved centre for Edexcel and Cambridge GCSE, IGCSE, AS and A-Level examinations. The British section delivers the proven system of British education to children aged 3 to 18: from Foundation Stage 1 to Year 13.
Majority of our students are Egyptian, and so the Arabic, Religion and National Social Studies programme that we offer for first language speakers throughout the school is certified by the Ministry of Education and meets the requirements for Egyptian students through all phases of National education: Primary, Prep and Secondary up to Thanawiya'Amma and fulfils all curriculum requirements for entry into Egyptian universities. We also provide Arabic as a Second Language for foreigners throughout the school, and this can be taken as a GCSE subject in Year 11.
Aims
To provide students with a broad, balanced education based on the British National Curriculum
To create successful learners who enjoy learning, make progress and achieve in both internal and external assessments
To meet the diverse needs of every one of our students at every stage
To encourage pupils to develop morally, emotionally, culturally, intellectually and physically
To create a way of life characterised by caring, tolerance, security, praise and high expectations
To enable pupils to learn best by being encouraged, valued, trusted and respected
To help pupils develop continuously by providing conditions and experiences that sustain and encourage this development.
To be confident individuals who are able to live safe, healthy and fulfilling lives
To be responsible citizens who make a positive contribution to society.
Responsibilities
There are Senior Leaders in each section of the school responsible for curriculum planning and delivery. Heads of Faculty are responsible for line managing and supporting Heads of Subject in the development, delivery and outcomes of the curriculum.
Teaching staff are responsible for implementation of curriculum plans, delivery, assessment and reporting.
Monitoring and Evaluation
The effectiveness of this policy is evaluated through the school's work sampling, lesson observations and learning walks. Student progress acts as a key indicator as to the effectiveness and suitability of the curriculum for each student.
Provision
Primary
Most children enter in either FS1 (3 year olds) or FS2 (4 year olds), but others join at all stages except into the second year of the GCSE programme (into Year 11). After Year 1, parents decide whether their child will continue in the British system, or will join our American Elementary School.
In line with the National Curriculum for England, children between the ages of 3 and 5 follow the Foundation Stage Curriculum: a two-year programme designed to meet the needs of this age group and prepare them for entry into Key Stage 1. In Year 1, children embark on the first year of the KS1 curriculum.
From Key Stage 1 to Key Stage 3 (age 6-14), students follow the National Curriculum for England (www.curriculum.qcda.gov.uk), adapted slightly to meet the needs of our student body, which is made up of Egyptian nationals and children from many other countries.
Secondary
The Secondary School caters for students aged 11-18 and offers the National Curriculum for England in KS3, GCSE and IGCSE courses in Years 10 and 11 and AS and A2 Levels in KS5. Our highly trained and dedicated teaching staff is led by a leadership team that comprises the following roles:
Head of British Secondary School- Mr Matt Topliss
Head of Teaching and Learning (Secondary and Primary)- Ms. Kath Pescod
Head of Key Stage 3- Mr Hadi Malik
Head of Key Stage 4- Ms Sandhya Trott
Head of Key Stage 5- Mrs Maggie Vallely
Welcome from Mr Matt Topliss (Head of British Secondary School)
Key Stage 3
In KS3 all students study the core programme of:
English, Mathematics, Science and Information & Communication Technology, as well as Arabic Social Studies and Religion (Islam or Christianity), broadened by:
Art, French, Geography, History, Music /Performing Arts and Physical Education. Students also have one discreet lesson of PSHE every week.
Planning, preparation, delivery and assessment follows the requirements of the National Curriculum.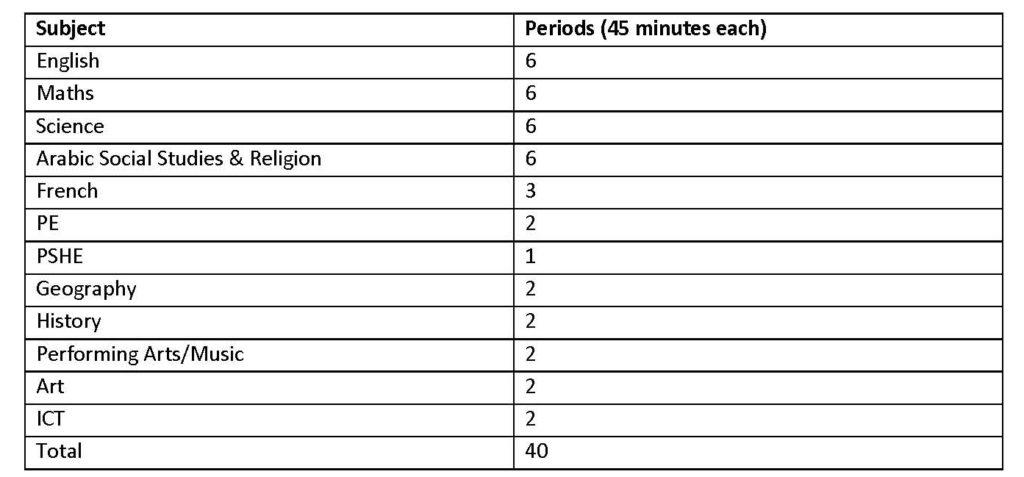 Key Stage 4
In Key Stages 4 we offer a mixture of Edexcel and Cambridge courses. Students study a combination of GCSEs and IGCSEs depending on the subject. Heads of Departments and SLT study available syllabuses very carefully in order to ensure we cater the curriculum for the needs of our students.
All GCSE students study a core of:
English and English Literature; Mathematics; Arabic; Social Studies, Religion (Islam or Christianity); and Physical Education enhanced by five options subjects from:
Art & Design; Biology; Business Studies; Chemistry; Drama; French; Geography; History; Economics, Computer Science; Physics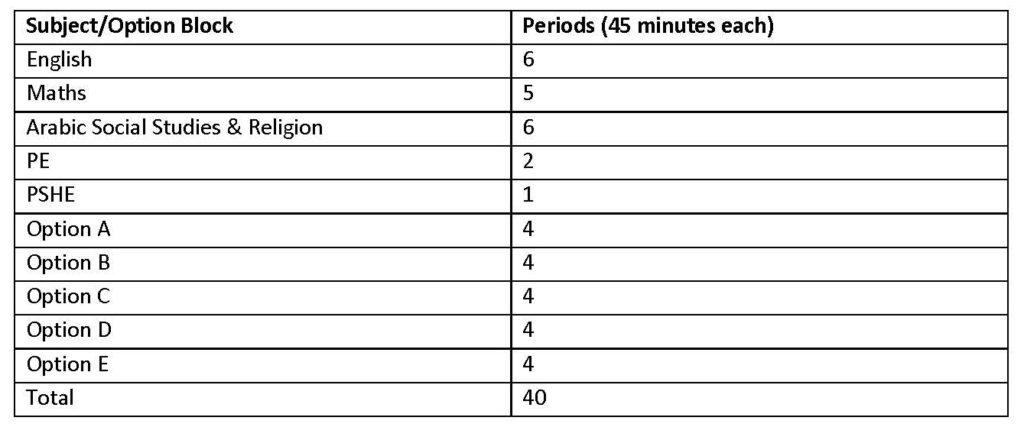 Key Stage 5
Key Stage 5 ('Sixth Form') students choose four subjects to study at A-Level in Year 12. (A few students study three). They continue with three of these to full A-Level in Year 13. Available subjects include:
Arabic; Art & Design; Biology; Business Studies; Chemistry; Economics; English Literature; French; Geography;
Government & Politics; History; Information & Communication, Graphic Design Technology; Drama, Mathematics (Mechanics or Statistics); Physics; and Physical Education.
Planning, preparation, delivery and assessment follows the requirements of the National Curriculum and the Examination Boards.

Students who take GCSEs, AS and A-Levels in the Senior School achieve excellent grades. Graduates have gone on to great success in top universities in Egypt and abroad, notably in the UK, USA and Canada, but also in a large number of other countries. This is further evidence of the high standards we set for our students and of our successful approach to developing our children's learning.