Early Years Foundation Stage: Foundation Stage 1 and Foundation Stage 2
Curriculum
At El Alsson we follow programmes such as the International Early Years Curriculum (IEYC), the International Primary Curriculum (IPC) and the IB Middle Years Programme (IBMYP) that are aligned with and enhance the delivery of the UK National Curriculum.
These strong and adaptable curricula set students' personal and subject goals, combining subject teaching with a focus on values and resilience. As well as languages, arts, sports and STEAM subjects, your child will explore traits such as morality, communication, enquiry and respect.
Learning in the Foundation Stage is fun and curriculum objectives are achieved through purposeful, well-planned play and practical activities.
THE INTERNATIONAL EARLY YEARS CURRICULUM (IEYC)
The IEYC was designed in response to demand from schools/Early Years settings that were using the International Primary Curriculum (IPC) and wanted to incorporate a self-sustained international curriculum for learners in the Early Years age range of 2-5 years old.
In the Early Years Foundation Stage (1&2) we follow the International Early Years Curriculum (IEYC). The IEYC is an advanced research-based toolkit, recognising global best-practice and the developmental needs of foundation stage children.  It supports key areas of learning through holistic enquiry and play-based approaches covering all curriculum areas including personal, social and emotional development.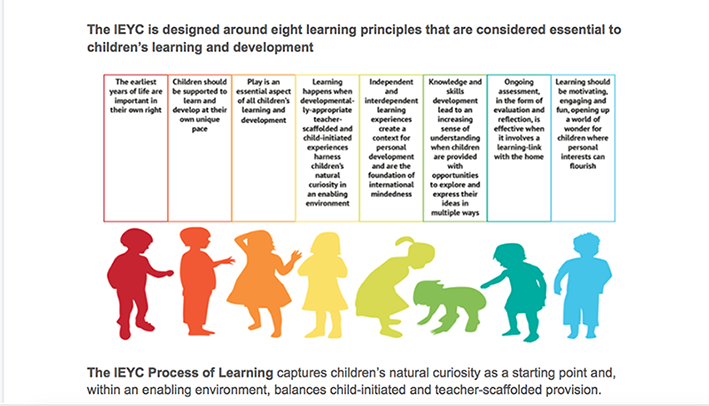 The IEYC is designed around eight learning principles that are considered essential to children's learning and development
The IEYC Process of Learning captures children's natural curiosity as a starting point and, within an enabling environment, balances child-initiated and teacher-scaffolded provision. 
It contains 6 elements, each one linked to the eight Learning Principles, ensuring the IEYC beliefs about children's learning and development are connected to all practices.
The stages are defined as the 'Entry Point'; 'Capturing Curiosity'; 'Enable the Environment'; 'The Big Picture'; 'Explore and Express'; and 'Exit Point'.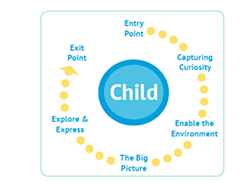 Entry Point generates a WOW factor, motivating children and sparking their imagination
Capturing Curiosity is an on-going process, beginning with the Entry Point. The process should lead to finding out what children already know about a theme and what they are curious to learn. This enables teachers to support child-initiated and personalised learning.
Explore and Express Each IEYC unit of learning has distinct 'Phase Level' activities through which children can Explore and Express their learning.
–        Explore: This is the process when teacher-scaffolded IEYC learning activities and child-initiated exploration are developed through individual and collaborative experiences.
–        Express: These are the creative opportunities provided to help children demonstrate, share and consider what they have engaged in and learning about.
Exit Point provides opportunities for children to reflect, share and celebrate what they have learned. Exit Points are often used to share and demonstrate learning with members of the setting community.
The IEYC Learning Strands – these are the learning experiences that children engage in during each IEYC unit and that children are provided with through IEYC activities. Each of the four Learning Strands describes what children will experience and learn about through contextualised activities woven into IEYC units of learning. 
Each IEYC unit of learning has been carefully designed around a central theme, holistically linking all four Learning Strands to relevant and engaging activities that can be adapted and extended to meet individual needs.
The four IEYC Learning Strands are: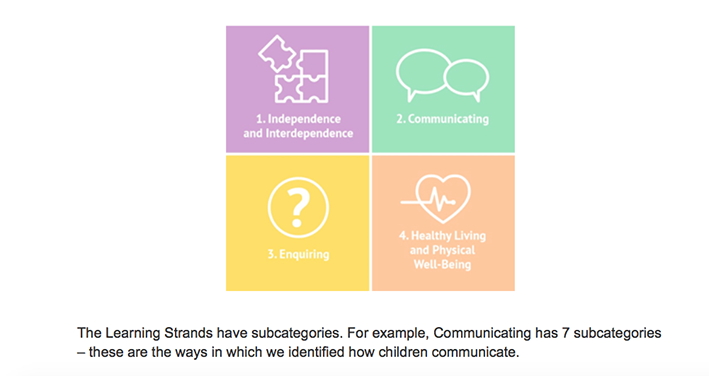 The Learning Strands have subcategories. For example, Communicating has 7 subcategories – these are the ways in which we identified how children communicate.
The IEYC Types of Learning: Knowledge Skills & Understanding
Knowledge, Skills and Understanding have their own distinct characteristics that impact on how each is planned for, learned, taught and assessed. The overriding purpose of the IEYC is to help children develop their knowledge, skills, and increasing understanding to support their development in early years. The teacher should know what knowledge, skills and increasing understanding needs to be taught but also to embrace the children's own ideas and understand the direction they wish to take their learning in. The result would then prepare learners for deeper learning.
The IEYC Approach to Assessment for Learning
The IEYC Assessment is based on observation of children and is ongoing over the year. Providing IEYC Online Learning Journals for the children is essential. This is to record what children have learned through the IEYC and in child-initiated learning.
IEYC Cycle of Learning
The IEYC is a fully integrated curriculum that offers learning across a broad range of topics. Through following the process of learning and the core work in English and Maths provided through Read Write Inc. Phonics and Busy Ant, children at El Alsson will experience a holistic and thorough educational experience that will put them in a good position for the rest of their academic lives.
Read Write Inc. Phonics
Early Years Foundation Stage Learners at El Alsson use Read Write Inc. Phonics scheme of work. 
Read Write Inc. Phonics (RWI) is a phonics complete literacy programme which helps all children learn to read fluently and at speed so they can focus on developing their skills in comprehension, vocabulary and spelling. Children are grouped according to their ability so they only engage with work that is achievable. This makes learning to read more enjoyable and allows the children's learning and confidence to flourish side by side.
In FS1, all children will be introduced to the initial sounds in short sessions. We use pure sounds so that the children will be able to blend the sounds into words more easily. 
In FS2, all children will learn how to 'read' and 'write' all the sounds in Set 1 and then taught how to blend these into words. Fred the frog helps the children to blend the sounds together which is then used to help children read. Teachers will often use the phrase 'fred talk' to sound out words.
BUSY ANT MATHS
NUMBER, SHAPE, SPACE, MEASURES
At El Alsson, we endeavour to provide the best learning opportunities within Maths and extend learning so that our children can use their knowledge, skills and understanding in a functional way. From 30-50 Months the FS children initially work through the Development Matters Framework then they move into 40-60 Months  Collin's Busy Ant Maths scheme.
Busy Ant is a whole-school mathematics course that assists teachers in teaching for mastery and ensures complete coverage of the 2014 Primary National Curriculum for Mathematics. We believe that all children are capable of achieving high standards in Maths and Busy Ant allows us to utilise Progress Guides which provide support and extension activities, to raise attainment for all pupils and ensure rapid progression for pupils who need extra practice.  Using Busy Ant allows us to teach topics in a way that children progress through the curriculum at the same pace.
A team of caring, dedicated educators
A dedicated team of experienced teachers and full time teaching assistants care for FS1 and FS2 pupils.  The ratio of adults to pupils ensures that every pupil has a number of known and trusted adults to support their learning and welfare needs at every moment during the school day.
Caring for every student's welfare
Through careful planning and organisation of the learning environment, FS teachers and assistants ensure that every child has the opportunity to succeed academically and socially. Self-esteem and confidence are nurtured so that children become active learners. Through the introduction of the 'Golden Rules' a caring community is created where pupils learn to care for themselves, others and the school environment. This is a significant time for our pupils since the foundations are being laid upon which the rest of their education will build.
Stimulating resources to support learning
FS pupils enjoy a large, bright open-plan area equipped with colourful furnishings and stimulating resources.  The classroom learning hub is supported by an engaging courtyard just outside.  This area is focused on providing opportunities for learning through play.  Pupils can choose from different areas including art, reading, construction, imaginative play, bikes and trikes, sand play, language games, mathematics games and more.  Bathroom facilities are adjacent to the learning space.
Why enrolling in FS1 is vital to your child's success
The Foundation Stage of education is a crucial time and we urge parents to consider the advantages of enrolling their 3 year olds in a setting which follows the International Early Years Curriculum (IEYC).
Click here for the Behaviour Policy
To download the Student Parent Handbook, click here