El Alsson British & American International School
"A lot of well-placed attention has been focused on pre-school education in recent years, and for good reason. Studies demonstrate that youngsters with strong preliteracy skills are more academically successful throughout their school years".
At El Alsson, we strongly encourage parents to enroll their children at the age of 3 where he/she follows the British Foundation Stage 1 curriculum. All children entering El Alsson's kindergarten (3, 4, & 5 year olds) follow the British curriculum simply because the content is excellent and the children make rapid progress. Before the children enter the Primary School, parents are then asked to choose either the American International School or the British International School.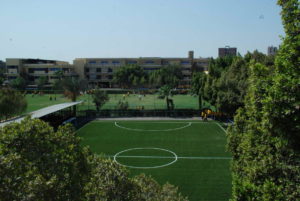 The American International School is available from G1 – G12. El Alsson offers the American curriculum in a most professional and modern way and more than meets the standards of NCA CASI (The North Central Association Commission on Accreditation and School Improvement). An integral part of the curriculum is the development of critical thinking skills.
The British International School follows the British National curriculum of England, with some adaptations especially in history and geography where Egypt and the Middle East feature prominently. The curriculum is well-balanced, meets the needs of a wide range of children, and is very popular with parents. In the Senior School, children take GCSE, AS and A-level exams. The examination results in recent years have been outstanding, enabling students to enter prestigious universities in Egypt and abroad.
All sections of the school teach the Ministry of Education Arabic and Religion programmes for Egyptian students. Students from expatriate families follow an Arabic as a Second Language course as part of their studies.
El Alsson offers a wide range of activities to enhance the broader curriculum: sports, performances, leadership programmes, charity projects, MUN and many other clubs.
if you cannot view the comparison chart below, please click here for the comparison chart for the British and American sections compared to the National system.