El Alsson Leadership Programme is optional for students of year 12 (17 years old) in the British section of the school. It requires students to cover 20 hours of community service with an NGO or charity organisation, 20 hours of work experience in a company and Making-a-Difference project to participate in at least one serious attempt to show leadership and make a difference within the school community. Participation in the Leadership Programme benefits the student's personal development and global awareness and teaches them teamwork skills. It also gives them the chance to experience the satisfaction of touching people's lives and making a difference in the community.
El Alsson students have been working closely with and supporting Operation Smile which is an organisation that operates on the cleft lip and cleft palate in 45 countries worldwide. El Alsson students raise funds, provide their support, entertain the children before and after their operations and enjoy one of the greatest experiences of all….changing lives of precious children, one smile at a time!
Due to our students' dedication, enthusiasm and passion, El Alsson now has the first and only Student Club for the organisation in Egypt. For more information on the Student Club and their recent activities, please click here for their blog.
A Cleft is an opening in the lip, the roof of the mouth or the soft tissue in the back of the mouth. The exact cause is unknown. About 1 in every 500 babies born suffers from the cleft lip or palate in Egypt. In as little as 45 minutes, and for 1,400 LE, a single surgery can change a child's life forever.
Children who suffer from the cleft lip or palate find it hard to make friends. Many of their families are ashamed of them, and do not even send them to school. The effects are not only cosmetic. The cleft lip or palate can cause ear disease, malnutrition, dental problems and difficulty in speech.
To donate to Operation Smile Egypt Bank: Commercial International Bank (CIB) Account Number: 5990000076 Swift Code: (for donations outside Egypt): CIBEEGCX059
For more information please log onto http://egypt.operationsmile.org/
Success Stories
I met a beautiful 3 month old baby girl named Rokaya in September 2010 at an Operation Smile Mission in Cairo. She had an unusual case as she didn't suffer from a cleft lip or palate but had two mouths. I was told to interview and follow her story as she would be a potential World Care Patient and would join the waiting list for World Care Patients.
A World Care Patient is a patient who has very severe case and goes abroad for surgery as it is too complicated a surgery to be carried out in the home country. My heart sank when I saw Rokaya, a 3 month old baby who had done nothing wrong didn't deserve this from the world. I followed her with her parents Tamer and Amani through the screening process asking them about where they lived, what they did for a living and questions about Rokaya. We got to the speech therapy station which was the last station of the screening process where Rokaya was turned away from surgery for being too young. Amani immediately started crying and I knew that something needed to be done to help this baby girl.
I then came back to school once the mission was over and shared Rokaya's story with the School Club, everyone showed great interest in helping Rokaya. So we took a vote and decided, if the money fundraised in the last year and a half (56,000) should be used for Rokaya's surgery or for a mission and we agreed to use the money for Rokaya's surgery. We pestered Genny Adel, the Country Director of
Operation Smile Egypt until late December when we found out Rokaya's surgery is going to go through. Within a couple of weeks, Rokaya will be all prepared and ready to travel with Tamer to Los Angeles, where she will be living for about 2 months and will get her surgery and come back looking so beautiful! Rokaya came and visited us in school on Monday the 28th of February with her mother, father and older brother.
The last time I saw her she was a 3 month old tiny baby and now she was a 9 month old happy, go lucky baby! Her family requested the club to go to the airport with Rokaya before they leave and we will be there for sure. Rokaya and her family came back to visit our Sixth Formers to share their experiences with them. They especially wanted all Alssonians to see Rokaya able to SMILE again. It was amazing seeing her just as she should be, a pretty little princess smiling once again
Arzoo Rikhy
I saw Khaireya waiting the child life centre with her older brother. She was sitting on a chair on the side and had a look of plain old fear on her face. I decided to approach and try to comfort her as much as I could, in my broken down Arabic. We started talking and I reassured her and explained to her that the surgeons were very good and she had very little to worry about. We then started talking about our lives, she told me she was 16 and had never been to school before cause of the way she looked. She explained to me how she hated walking in the street as young children would make fun of her and insult her but she also told me that she could handle this because she was strong and every time those children would bother her she would chase them away.
Our wonderful conversation was abruptly ended as her name was called and she walked towards the OR. I walked with her down to the OR, continuing to reassure her, right before she went in I paused her for a second and took a picture of her, telling her that I wanted to show her, her before and after shot, she smiled for the camera and then was off to surgery. For the next 2 hours, I continuously kept going back to the OR to see if
Khaireya was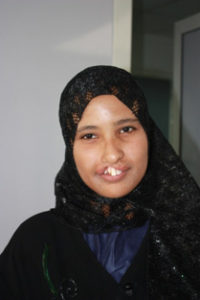 out of surgery or not, I felt a close attachment to this girl I had spoken to for 5 minutes. She was my age and couldn't even imagine the things in life I take for granted. She had never been to school, or thought about getting married, she had never tried to dress up or have an evening out with her friends. This girl had lived in shame for 16
years. I could have never imagined an existence like that.
Later in the day I went down to post op and met Khaireya there, she looked completely drained because of the anaesthesia but invited me to go sit next to her, I took two of my friends with me to help me translate. I asked her if she had seen herself yet, she told me she had and she called herself 'amar,' which means 'moon' in Arabic and is a reference to being beautiful. I was so happy to hear her say that. She then went on to tell me that her mom never treated her well when she was growing up but when they got to the hospital her mom was shocked to see how much love all parents would give their children no matter how they looked. It made her mother realise that she was unfair to Kharreya. I then questioned her mother and she told me that she would never feel hurt or angry when she looks at Khaireya anymore, she loves her daughter. Khaireya and I talked for a while, she told me that if anyone told her that they loved her or she was beautiful she wouldn't believe them, but now she would. She feels beautiful and she knows that she is beautiful. She told me now she was going to think about marriage as well. Khaireya told me that she did her surgery under local anaesthesia and she was scared at first but closed her eyes and it was all worth it.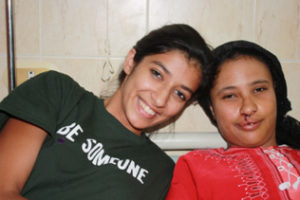 After a day of travelling to get to the hospital from a place called El Bahara, Khaireya received a successful surgery and her life was changed forever. Her entire family looked extremely grateful and I made a new friend. I think Khaireya had a larger impact on my life than I did on hers. I met a girl who was exactly my age and that made it easy for me to relate to her. Khaireya's entire life has changed and I wish her the best of luck. She missed out on important parts of her life but now she has the chance to regain them and experience the future to the fullest. I later found out that 'Khaireya' means 'charity', how awesome is that??
Arzoo Rikhy Y13