What is the AP Capstone Diploma Program?
AP Capstone™ is a diploma program based on two yearlong AP courses:
AP Seminar
AP Research.
These courses are designed to complement other AP courses that the AP Capstone student may take. AP Courses are University level courses taken in Grades 11 and 12. For a student to obtain the full Capstone Diploma, he needs to have taken at least 4 AP courses as well as the Seminar course and the Research course.
Instead of teaching specific subject knowledge, AP Seminar and AP Research use an interdisciplinary approach to develop the critical thinking, research, collaboration, time management, and presentation skills students need for college-level work.
The College Board developed the AP Capstone Diploma program at the request of higher education professionals, who saw a need for a systematic way for high school students to begin mastering these skills before college.
El Alsson NewGiza is proud to be the ONLY school in Cairo, or Egypt, to offer the AP Seminar and AP Capstone/Diploma program.
How does it work?
Students typically take AP Seminar in grade 10 or 11, followed by AP Research. Each course is yearlong, and AP Seminar is a prerequisite for AP Research.
In both courses, students investigate a variety of topics in multiple disciplines. Students may choose to explore topics related to other AP courses they're taking.
Both courses guide students through completing a research project, writing an academic paper, and making a presentation on their project.
AP scores for both courses are based on teacher assessment of student presentation components and College Board scoring of student-written components plus an end-of-course exam (for AP Seminar only)
Students who earn scores of 3 or higher in AP Seminar and AP Research and on four additional AP Exams of their choosing receive the AP Capstone Diploma™. Students who earn scores of 3 or higher in AP Seminar and AP Research but not on four additional AP Exams receive the AP Seminar and Research Certificate™.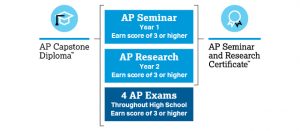 What are the Benefits of the AP Capstone Diploma Program?
Other universities around the world also look favourably at applicants with AP Capstone, including through allowing students to skip foundation years and/or earn advance college credit while still in high school"
For further information about our Advanced Placement (AP) and AP Capstone program, please contact:
Mr. Adam McDonald on amcdonald@alsson.com 
Mrs. Angie Shalaby on ashalaby@alsson.com